Happy Holidays from your FAMOUS Fam(ily)
Famous Superstars is at a NEW location!
Located off Washington st
711 Park Ave
Charleston WV 25302 - Main entrance located on Breece St
( type this into your GPS and it will take you straight there)
Please check General Info tab for driving directions
Come be a part of the best tumbling program in the tri-valley area
SIGN UP NOW - limited spot available
Missed try-outs - you can still join- email brianlgravely@yahoo.com for more info
Try-out Info for the 2013-2014 (Below)
more info on the tab to your left Try-out Info 13-14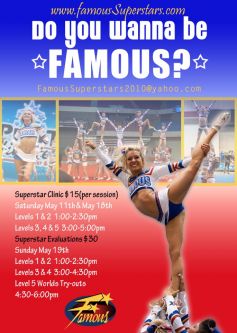 Worlds Teams Try-outs (below)
Our goal is to give each individual athlete the best quality instruction and to encourage their development by using the most positive experienced instructors and the latest equipment in a friendly, fun, clean and safe environment in the tri-state. The staff at FAMOUS has the knowledge and experience that cannot be matched! The staff comes from the top collegiate and All-Star programs in the country and all share the same passion and love for the industry. All of our athletes have great opportunities to take their cheerleading career to the collegiate level. We take pride in assisting our athletes in pursuing higher education while staying involved with their passion. At Famous Superstars we offer gymnastics classes, competitive cheerleading, private lessons & much much more!
YOU WANT TO BE FAMOUS?
Call today for more information:
(304) 34CHEER
(304) 342-4337
Email: FamousSuperstars2010@yahoo.com
1426 Pennsylvania Ave.
Charleston WV, 25302